About Us
Our chapter consists of approximately 25 members from the central SD area who are all members of national SHRM. We provide members with professional development by offering recertification credit for each program, legislative updates, and networking opportunities that stimulate professional growth and enhance workplace contributions. Members also have the opportunity to develop leadership skills by serving in volunteer leadership roles in the organization. The Chapter continues to explore opportunities to participate in or enhance programs currently offered by different entities to promote workforce readiness.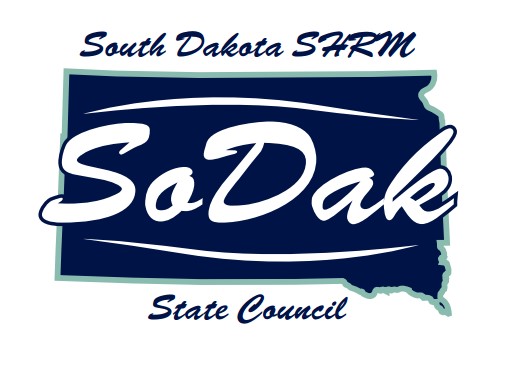 The SDSHRM Council unifies 7 individual SD SHRM affiliated chapters to advance the HR profession. They partner with over 400 volunteers in South Dakota to represent our state at a regional and national level.
We welcome you to utilize the SDSHRM site as a resource, and encourage you to check back frequently for updated information. You can find us at the following link http://www.sodakshrm.org/ Click on the "About Us" or "Contact" page to get to know your council leaders from around the state!
SDSHRM Vision
To be the premier organization in South Dakota for the professional development and advancement of Human Resources.
SDSHRM Mission
Lead Human Resources in South Dakota through:
Human Resource expertise
Advocacy
Professional support
Educational Opportunities
Networking
SHRM, the Society for Human Resource Management, creates better workplaces where employers and employees thrive together. As the voice of all things work, workers and the workplace, SHRM is the foremost expert, convener and thought leader on issues impacting today's evolving workplaces. With 300,000+ HR and business executive members in 165 countries, SHRM impacts the lives of more than 115 million workers and families globally. Learn more at SHRM.org and on Twitter @SHRM.
You can get more information on the SHRM Overview, Vision, Mission & History, Board of Directors, Executive Leadership and Awards & Scholarships by visiting the About SHRM page on shrm.org.